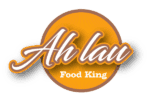 Ah Lau Food King
From the biggest stage performing for thousands, Dennis Lau epitomises a tireless work ethic that exudes style and quality. As Ah Lau Food King, he brings the same commitment to deliver 5-star quality food products right to your doorstep.
Premium Food. Value Pricing. Freshness delivered to your door.
Ah Lau Food King
At Ah Lau Food King, our fresh products are quality controlled for your ultimate enjoyment. We pride ourselves in delivering the best customer experience by offering convenient shopping options, fast delivery and exceptional customer support.